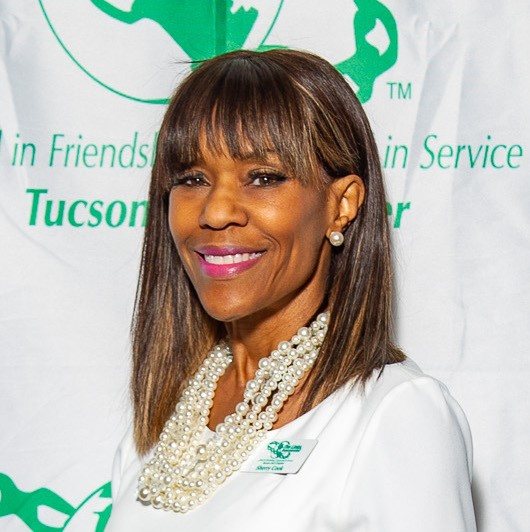 A Message From The President
On Behalf of the Tucson (AZ) Chapter of the Links, Incorporated "WELCOME" to our website
Our Chapter was Chartered on November 23, 1962 and is based on the concepts of friendship and service. We are a non-profit, volunteer-driven organization. We are committed to providing world-class service in our community through transformational programs that positively impact and improve the lives of the people we serve. Through collaborative facet programming and in conjunction with our global and local partners the following is a list of the few programs we have proudly served our Tucson community:
Dental education to 85+ children and their parents, toothbrushes, healthy snacks, free dental exams to St. James "Happy Trails Day Care" in Tucson, AZ.
Free Healthy Body Healthy Mind Forum, provided panelist & keynote speaker (Mental & Physical health) resource tables/materials & Healthy lunch served over 130 people in the community
Provided numerous scholarships annually
Provided 400+ nutritional bars and bottled water the Crisis Advocate for the CODAC Health Recovery and Wellness Center in Tucson AZ; Which supports their processing with Human Trafficking.
We encourage visitors to explore our website to learn about our commitment to delivering impactful, sustainable and transformational community programs. We are an organization built on a foundation of friendship and service, serving Tucson as well as international areas in need.  We take great pride in serving our community with excellence and grace.
Yours In Friendship and Service,
Sherry Cook
President, Tucson (AZ) Chapter
Service With Impact
The Tucson (AZ) Chapter of The inks serves the Tucson Area, executing programs through our five Facet areas.
Helen Washington Memorial Scholarship Fund
The Tucson (AZ) Chapter of The Links, Incorporated is a scholarship for women of African American Ancestry.
1,119 Community Service Hours Served 2019-2020 Fiscal Year
PROGRAM PARTNERS IN SERVICE